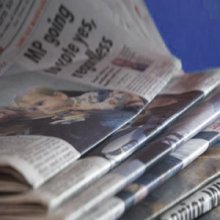 Sometimes media coverage comes from hard work, and other times it just happens.  So, what do you do when you get positive media coverage?  Here are a couple of ideas:
Forward it to your customers / constituents by email or via your company newsletter.
Forward it to customers and prospects as a "FYI" item.
Put a link to it on your Web site. OR write about it and link to it in your blog if you have one.
 Consider making a PDF copy of the story and linking to that if the story's likely to disappear from the news site where it first appears.
Link to the story from Facebook, if you have a Facebook account.  You don't have a Facebook account?  Why not?  Takes all of five minutes to get one.  Put it in the name of your business.
Get reprints and give them to your sales staff as collateral, if appropriate.
Enclose a copy in your invoices, or when you pay bills.  (Yes, a little over- the-top but if you don't brag on yourself, who will.
Frame the story and display it at your place of business.
You probably can come up with more ideas.  Here's the point.  If you get positive coverage, do whatever you can to leverage that coverage as much as possible by spreading the word yourself.  Even if your company gets a lot of news coverage, there will be stories worth sharing beyond their natural reach.  Failing to broaden the reach of positive coverage is a missed opportunity to tell your story.
Remember that a story written ABOUT you or your company has a  high credibility factor  since it is coming from someone else, a third party, versus something  you write about yourself.