Poll: Online world is a pretty mean one:



Study finds most young people have been the victims of cyberbullying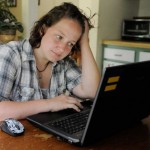 Catherine Devine had her first brush with an online bully in seventh grade, even before she ws using the Internet.  Somebody set up a screen name,  "devinegirl," posing as Catherine, sent messages full of trash talk and lies and rumors to her friends and schoolmates.  "They were making things up about me, and I was the most innocent 12-year-old ever," Devine remembers.
Devine, now 22, learned to thrive in the Internet and in ocial MEdia sites, like Facebook and MySpace.  But like other young people, she occasionally stumbles into one of its dark alleys.
An Associated Press poll of youth in their teens and early 20s finds that most of them — 56 percent — have been the target of some type of online taunting, harassment or bullying.
Read more  Here