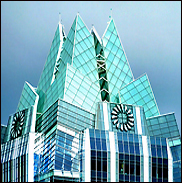 Austin was one of the top-rated metro areas worldwide, and the highest in the U.S., in a Brookings Institution analysis of how 150 cities around the globe are recovering from the recession.
Austin ranked 26th overall in the report, which measured cities on their pre-recession, recession and post-recession economies.
The report, released this morning, said metro areas are leading the way in "a precarious recovery" from the worst downturn since the Great Depression.
The 150 cities ranked are "locations for high-value economic activity" that "punch above their weight in national and global economic output."