Every so often I run across something that's so simple and yet so amazing.  Here's an exmple:
How often do you forget to follow-up with someone based on an e-mail sent to you a week ago?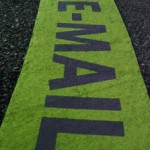 Do you get e-mails that you want to re-read a few months from now? A new service is looking to turn your inbox into a dead-simple reminder and follow-up system.
NudgeMail, which launched this week, isn't a browser extension, a program you install on your desktop, or even a web app; it operates entirely via e-mail. All you have to do to use NudgeMail is write or forward an e-mail NudgeMail, and it'll send you that e-mail back at the time you've specific. No sign-up is required.
Say your boss e-mails you to follow-up with a client next week. All you have to do is forward that e-mail to "nextweek@nudgemail.com" and NudgeMail will send it back to you seven days later. If you get an e-mail from a friend you don't want to deal with until tomorrow, you can e-mail it to "tomorrow@nudgemail.com" and it'll arrive the next day.
NudgeMail comes with a variety of commands, ranging from "monday@nudgemail.com" to "EOD@nudgemail.com" (you'll get the e-mail at 6 PM that evening) to "02122011@nudgemail.com" (you'll get the e-mail on February 12, 2011). You can specify times ("530am@nudgemail.com") or intervals of time ("2d3h@nudgemail.com"). There's even a snooze option ("snooze@nudgemail.com") that will send the e-mail back to you in exactly one hour.